Wel­come to Open Farm Sunday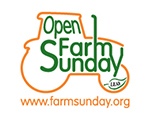 Open Farm Sun­day, man­aged by LEAF (Link­ing Envi­ron­ment And Farm­ing), is one of the farm­ing industry's biggest suc­cess sto­ries. Since the first Open Farm Sun­day in 2006, over 1600 farm­ers across the UK have opened their gates and wel­comed over 2.7 mil­lion peo­ple onto farms for one Sun­day each year.
It is a fan­tas­tic oppor­tu­ni­ty for every­one, young and old, to dis­cov­er at first hand what it means to be a farmer and the fab­u­lous work they do pro­duc­ing our food, enhanc­ing the coun­try­side and all the goods and ser­vices farm­ers provide.
Each event is unique based around the farm's indi­vid­ual sto­ry. Activ­i­ties dur­ing the day may include a farm walk, nature trail, trac­tor and trail­er rides, demon­stra­tions, pond dip­ping, activ­i­ties for chil­dren, a mini farm­ers mar­ket or farm shop.
If you're a farmer think­ing of host­ing an event, head to our Open My Farm page.
If you're look­ing for a farm to vis­it in June, you can find your local event here.
A huge well done and thank you to every­one involved – includ­ing a big thank you to all our spon­sors for their finan­cial and in-kind sup­port. Read all about this huge suc­cess sto­ry here:

About
LEAF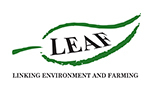 LEAF (Link­ing Envi­ron­ment And Farm­ing) is a nation­al char­i­ty that helps farm­ers improve the way they farm by encour­ag­ing them to take up Inte­grat­ed Farm­ing. LEAF also helps to cre­ate a bet­ter pub­lic under­stand­ing of farm­ing through our nation­al net­work of Demon­stra­tion Farms, Inno­va­tion Cen­tres, LEAF Edu­ca­tion work and ini­tia­tives like LEAF Open Farm Sun­day. We bring farm­ers and con­sumers togeth­er to raise aware­ness of how farm­ers are work­ing in har­mo­ny with nature to pro­duce good food with envi­ron­men­tal care, sustainably.
To find out more about LEAF's activ­i­ties, becom­ing a mem­ber and sup­port­ing our work, vis­it our web­site here.
Sign up to our mailing list(s)
You are now subscribed!
You are signed up to the mailing list(s) you selected.
If you no longer wish to receive emails from us, every email we send contains a link at the bottom allowing you to unsubscribe with one click. Privacy Policy.